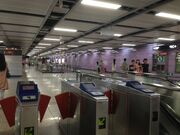 Guangzhou Metro Line 2 The second metro line to be built in, Line 2 mostly follows the former Guangzhou Baiyun Airport aircraft parking apron (the former Guangzhou Airport was closed due to the expansion of Guangzhou), and the Jiahe County. It also goes through the Guangzhou Railway Station, and the Guangzhou South Railway Station.
Line 2
Station Name
Native Name
Transfer
Jiahewanggang
嘉禾望岗

3

14

Huangbian
黄边
Jiangxia
江夏
Xiao-gang
萧岗
Baiyun Culture Square
白云文化广场
Baiyun Park
白云公园
Feixiang Park
飞翔公园
Sanyuanli
三元里
Guangzhou Railway Station
广州火车站

5

11

Yuexiu Park
越秀公园
Sun Yat-sen Memorial Hall
纪念堂
Gongyuanqian
公园前

1

Haizhu Square
海珠广场

6

The 2nd Workers' Cultural Palace
市二宫
Jiangnanxi
江南西
Changgang
昌岗

8

Jiangtai Lu
江泰路

11

Dongxiaonan
东晓南
Nanzhou
南洲

Guangfo

Luoxi
洛溪
Nanpu
南浦
Huijiang
会江
Shibi
石壁

7

Guangzhou South Railway Station
广州南站

7
Ad blocker interference detected!
Wikia is a free-to-use site that makes money from advertising. We have a modified experience for viewers using ad blockers

Wikia is not accessible if you've made further modifications. Remove the custom ad blocker rule(s) and the page will load as expected.