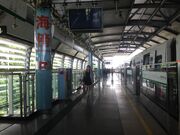 Guangzhou Metro Line 4 Line 4 is the Guangzhou Metro's most stations that is elevated. It is the only line that arrives at Nansha District. It goes to the Biological Island, Higher Education Mega Center, Asian Games Town, and the Guangzhou Olympic Stadium. Line 4 is the second longest line in Guangzhou Metro.
Line 4
Station Name
Native Name
Transfer
Huangcun
黄村

21

Chebei
车陂
Chebeinan
车陂南

5

Wanshengwei
万胜围

8

THZ1
Guanzhou
官洲
Higher Education Mega Center North
大学城北
Higher Education Mega Center South
大学城南

7

Xinzao
新造
Guanqiao
官桥
Shiqi
石碁
Haibang
海傍
Dichong
低涌
Dongchong
东涌
Qingsheng
庆盛
Huangge Auto Town
黄阁汽车城
Huangge
黄阁
Jiaomen
蕉门
Jinzhou
金洲
Jinlong
金隆
Guanglong
广隆
Tangkeng
塘坑
Dayong
大涌
Nansha Information Technology Park
资讯园
Nansha Ferry Terminal
南沙客运港
Ad blocker interference detected!
Wikia is a free-to-use site that makes money from advertising. We have a modified experience for viewers using ad blockers

Wikia is not accessible if you've made further modifications. Remove the custom ad blocker rule(s) and the page will load as expected.