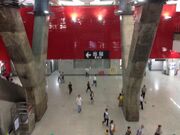 Guangzhou Metro Line 5
Line 5 is the only metro line that goes to the Huangpu District. It was the line that interchanges with all other lines until Line 8 broke out of Line 2. In 2016, it will be the only line that interchanges with Line 13 (unless the 2nd Phrase is approved). It goes to Zhongshan 8th Rd, Guangzhou Railway Station, Garden Hotel, Wuyang New Town, Zhujiang New Town, Liede Bridge, Chebei, Dongpu. It mostly follows Inner Ring Rd.
Line 5
Station Name
Native Name
Transfer
Jiaokou
滘口
Tanwei
坦尾

6

Zhongshanba
中山八

11

Xichang
西场
Xicun
西村

8

Guangzhou Railway Station
广州火车站

2

11

Xiaobei
小北
Taojin
淘金
Ouzhuang
区庄

6

Zoo
动物园
Yangji
杨箕

1

Wuyangcun
五羊邨
Zhujiang New Town
珠江新城

3

Liede
猎德
Tancun
潭村
Yuancun
员村

11

21

*
Keyun Lu
科韵路
Chebeinan
车陂南

4

Dongpu
东圃
Sanxi
三溪
Yuzhu
鱼珠

13

Dashadi
大沙地
Dashadong
大沙东
Wenchong
文沖
*=Line 21 will borrow the section Yuancun-Tianhe Park of Line 11 before it is opened.
Ad blocker interference detected!
Wikia is a free-to-use site that makes money from advertising. We have a modified experience for viewers using ad blockers

Wikia is not accessible if you've made further modifications. Remove the custom ad blocker rule(s) and the page will load as expected.