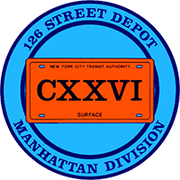 *126 St Depot has the following routes: M15, M15 SBS, M31, M35, M60 and M116(weekdays only) but with assignments
M15 Local
2002-2003 New Flyer D60HF Articulated: 5606-5610, 5617, 5620-5622, 5625, 5626, 5628, 5631, 5633, 5636, 5638-5645, 5692, 5693 
2009-2010/2012 Nova Bus LF60102 Articulated: 1282-1289, 5934, 5986
M15 +Select Bus Service:
2009-2010 Nova Bus LF60102 Articulated +SBS: 1233-1281
M60 (Local btwn Harlem-106 st and LaGuardia Airport
2012 Nova Bus LF60102 Articulated Low Floor (with luggage racks): 5968-5985
M31 and M35, M116
1999 Nova Bus RTS T80-206: 5013-5023, 5026-5027
2008 Orion VII Next Generation Hybrid Low Floor: 3877-3899
Ad blocker interference detected!
Wikia is a free-to-use site that makes money from advertising. We have a modified experience for viewers using ad blockers

Wikia is not accessible if you've made further modifications. Remove the custom ad blocker rule(s) and the page will load as expected.